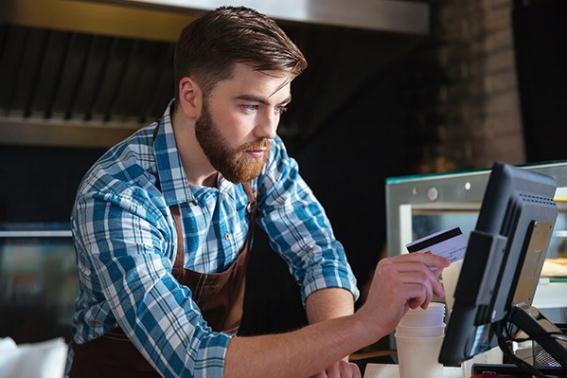 So much going on in the POS space!
I recently walked one of the large restaurant trade shows and it's just fascinating to learn about what's new and trending out there.
Building on that I had a great conversation with Jordan Statt, VP of Business Development at Mobilebytes and I think you'll enjoy learning about some of the new developments and options with POS systems.
RR: What are some of the latest developments in the POS space?
Jordan StattJS: One of the biggest developments in the POS space is the shift from traditional on-site client/server based PC systems to mobile, cloud-based tablet systems. This shift in architecture coupled with the success of consumer app platforms like iOS, have allowed POS developers to build truly integrated technology ecosystems faster, and much more cost effectively. As an example, MobileBytes POS is an app run on Apple iPad hardware which gives us the ability to deliver new features quickly and easily. The cloud has also made the merchant's life easier. Merchants can gain actionable insight into their operations from virtually anywhere in the world, and in real time.
RR: What should a restaurant expect from a POS system these days?
JS: Restaurant merchants looking to purchase a new system today should expect a lot from their POS. It is one of the most important tools used to run their business. Any good cloud-based solution should bring with it all the functionality merchants have come to expect from their traditional POS system, but with the flexible capabilities that mobile products allow for. Operational insight via remote management tools is critical, and features like online ordering, loyalty, and enterprise management should all come built for the software. They should also expect fail-safe features like offline mode and no requirement for a separate on-site server. Finally, one of the things they should definitely expect is great technical support. Merchants should be able to talk to real people when they have questions about their system.
RR: How has your company looked to adapt to the mobile centric world we're in today?
JS: MobileBytes was actually founded on the idea that mobile technology is the key to letting customers interact the way they want with restaurants. This started in the POS app by leveraging things like SMS text messages in favor over buzzers for waitlist notification, and iPad mini use for tableside ordering and payment. However, the mobile focus has since grown to natively incorporate the restaurant guest's mobile devices as well. MobileBytes provides an app for restaurant guests that allow them to participate in loyalty programs offered by their favorite restaurants, order from their phones using our Skip the Line functionality, and pay for their checks using our Scan to Pay feature. All of these features are designed to work directly with our Point of Sale system to provide the most seamless operation for restaurants and their guests.
RR: What are some ways you're helping restaurants improve upon their speed of service?
JS: We look at speeding up service in 2 lenses. The first is from the merchant perspective. MobileBytes offers several features in the POS that help reduce touches and kitchen confusion regardless of service type. Table service restaurants can greatly improve table turns by leveraging iPad minis for table side ordering and payment. We also offer an order up feature that will let the kitchen communicate order ready status directly to the server responsible for the table so food gets delivered faster and fresher to the guests. Counter service restaurants can leverage our caller ID feature, beacon technology, and quick service screen features that let them place orders faster and more accurately.
The second way we look at speeding up service is by creating a feature set that brings that customer into the POS. We do that by leveraging the phones that are in their pockets. MobileBytes has a feature we call Skip-the-Line that effectively lets a customer order and pay through their mobile device while they're in a restaurant. There's no longer the period of time when you have to wait in line to place your order. When you walk in, the POS system knows you are on site and invites you to place your order through your phone. This increases order throughput and lets the guests get their food faster.
For table service restaurants, there is almost always time wasted when paying your check. First you wait to receive your check, then you hand over your credit card, you wait for someone to pick it up, you wait for your server to run the card and then you wait for your server to bring your card back. We have a mobile option called Scan-to-Pay which allows the customer to scan a code on their check and pay using a mobile wallet. This helps turn tables faster, and without the need for a server to perform the payment, letting them place new orders at other tables.
Traditionally, speed of service focus has always been on the POS. At MobileBytes, we are excited to incorporate the guest in that focus and help the restaurant increase customer satisfaction and revenue at the same time.
RR: How do you think about loyalty for restaurants and how have you built that feature into your system?
Jordan StattJS: It's no secret that the restaurant industry is a competitive space. What you really want to do is provide rewards options to give customers an incentive to come back more frequently. One of the most important components of that process is collecting customer information so that analysis can be done on customer behavior and program performance.
One of the unique features of the MobileBytes loyalty program is that it allows the merchant to collect customer info organically through normal operations which helps keep service speed up, and also lets the customer participate without being bombarded with loyalty signup advertising. The customer doesn't have to do anything besides spend money in a merchant location and either provide a phone number or scan a code on their receipt to enroll and earn points.
Once customers are in the program, we can report on their behavior and give merchants insight into their customer base.
Traditionally, these types of loyalty programs have been reserved for the big players in the restaurant industry. We're trying to make loyalty a service that is available to all restaurants, big and small.
Source: runningrestaurants.com