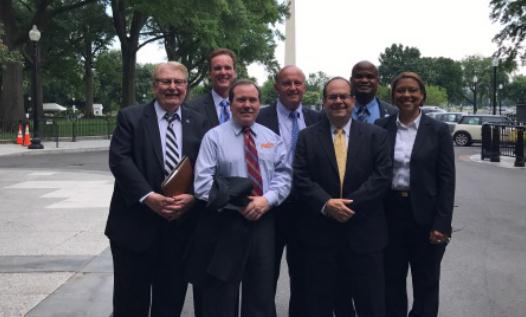 NRA EVP Cicely Simpson, right, and a group of local restaurateurs attended the White House reception celebrating smalll businesses.
Cicely Simpson, our executive vice president of policy and government affairs, attended a White House event Aug. 1 celebrating the Small Business Administration's 65th anniversary.
Simpson and several local restaurateurs went to the reception, which highlighted how small businesses, like restaurants, provide jobs and opportunities for Americans.


President Trump thanked small businesses for creating jobs and supporting the economy.
President Trump, along with his daughter and senior adviser, Ivanka Trump, and SBA Administrator Linda McMahon, welcomed more than100 small business owners to the event, called "The Engine of the American Dream." During his remarks, the president thanked the business owners for creating jobs and helping to grow the economy.
According to our recent research, more than 90 percent of restaurants in the United States are small businesses with fewer than 50 employees. Furthermore, more thanseven out of 10 restaurants are single-unit operations.


SBA Administrator Linda McMahon, left, and Ivanka Trump welcomed the attendees to the agency's anniversary event.
"Ninety percent of restaurants are small businesses that create jobs and fuel local economies across our country," Simpson said. "We continue to promote policies that help these restaurateurs grow their businesses."
The SBA encourages small business enterprise and helps Americans start, grow and build small business.
Source:NRA.com